Paradigm® Reference
Talk About Sub Yoga! More Positions than a Swami Teaching Yoga
in an Ashram!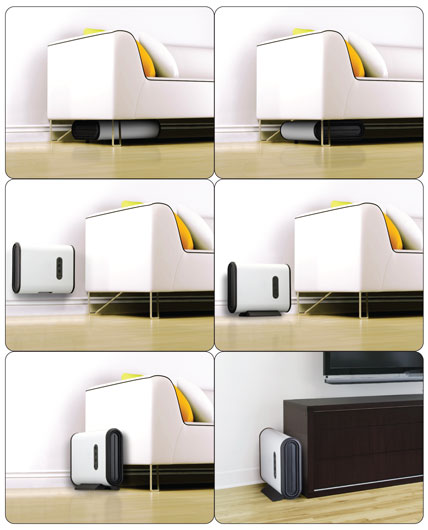 MilleniaSub … It will turn you on, bliss you out, and rock your soul to the core! Think of it as the mind/body/bass connection!

We're glad you're thinkin' about a Paradigm sub! And congrats! It's obvious you have great taste since you've chosen the world's #1 Speaker Brand! We're not blowing smoke, we've been voted #1 twenty times* (the only speaker manufacturer in the world that can claim that achievement!).

If you haven't heard The Paradigm Difference you're long overdue! The difference this sub will make to your music and home theater experience can't be put into words but you'll hear it and you'll feel it. They say Paradigms put you in the moment and keep you there! The amorphous 'they' are right. It's a humbling experience, one that takes you beyond the sub's slim and toned beach bass body to a place where you're absolutely lost in the music or movie you're watching.

Your MilleniaSub is part of Paradigm's 'Reference' collection … cool style and superb quality that includes 'cost no object' technology at below what you'd pay for any other genuine high-end subwoofer with this much cool stuff.  We guarantee you won't be able to keep the Paradigm difference a secret. In fact, we hope you don't. Spread the word! Talk about it. BRAG about it! Play your MilleniaSub and let others listen! Our mission is to rid the world of bad sound … and by 'bad' we mean the kind of subwoofers the big box stores stock, the ones that pretend to be dangerous and big-bass mean, but in the end couldn't give a fish in a fish bowl a fair shake.

So what are you waiting for? Get down to your local A/V specialty dealer and ask for a listen … we guarantee a whole new mindset after you've heard the MilleniaSub. There'll be no going back. Like we said, it's a mind/body/bass connection!

Back-to-Back Bipolar Dual-Woofer Design … inherently vibration cancelling. Woofers fire in opposite directions resulting in a physical cancellation of vibrations and a massive reduction in the potential for sound-destroying resonances. Bloated, boomy bass?? Not a chance!!

Killer Polymer Monocoque Cone Design … the outer skin of the woofer cone bears the brunt of the motion stress brought on by extended cone excursion. Cone is FEA-optimized for maximum strength-to-weight ratio.

Over-molded Corrugated Santoprene® Surround … well known performance advantages like high excursion and symmetrical compliance as well as increased longevity and you-can-bank-on-it-performance reliability. Design geometry reminiscent of our RVC-12SQ in-wall sub = higher output, lower distortion, every bass note sounds distinct.

Radical Dustcap Design … braced through the center and adhered to the cone's edge allowed us to move primary cone breakup mode to outside the woofer's operating band. Reduced distortion (inaudible actually!) and improved frequency response. Not to mention it looks totally cool!

FEA-Optimized Motor Structure … 1˝ voice-coil, high-energy rare-earth neo magnets – swami-approved for their radiating energy!

5-mm Thick Extruded Aluminum Cabinet … ultra-rigid but also super slim, allowing us space to tuck in all of this crazy state-of-the-art technology!

Advanced Ultra-Class-D™ Amplifier … Paradigm's Digital Signal Processing Design. Sophisticated mathematical algorithms 'shape' frequency response ensuring accurate, consistent, musical bass without distortion even at the highest output levels.

 
SPECIFICATIONS
Design
Dual driver, sealed box, vibration cancelling,
built-in Ultra-Class-D™ power amplifier,
built-in wireless receiver for wireless option,
USB port for PBK equalization
Amplifier: High-Current,
Discrete Output
900 watts Dynamic Peak /
300 watts RMS
Amplifier Features
Auto-on, soft clipping, thermal monitoring
Bass Drivers
Two 355-mm x 76-mm (14 in x 3 in)
reinforced polymer cones,
corrugated Santoprene® surrounds,
25-mm (1 in) voice-coils
Low-Frequency Extension*
21 Hz (DIN)
Subwoofer Cut-Off Frequency
Variable 35 Hz - 150 Hz; Bypass Option
Sub / Sat Phase Alignment
Variable 0° - 180°
Line-Level Input
RCA Sub-Out / LFE-Out of receiver,
processor or other line-level source
Height, Width, Depth
(horizontal, including feet)
13.75 cm x 46.5 cm x 35.5 cm
5-1/2 in x 18-3/8 in x 14 in
Height, Width, Depth
(vertical, including stand)
38.25 cm x 12.5 cm (stand width 17.9 cm) x 46.5 cm
(15 in x 4-7⁄8 in (stand width 7 in) x 18-3⁄8 in)
Height, Width, Depth
(on-wall, including hardware)
35.6 cm x 46.5 cm x 15.0 cm
(14 in x 18-3⁄8 in x 5-7⁄8 in)
Weight (unpacked)
10.9 kg / 24 lb each
Finishes
Satin Black, Satin White
Accessories (sold sep.)
Paradigm PT-2 Wireless Transmitter (see below)
Paradigm Perfect Bass Kit room correction system
MilleniaSub Wall-Mount Bracket system
* DIN 45 500. Indicates -3 dB in a typical listening room.
WIRELESS OPTION ONLY (using Paradigm PT-2 Transmitter)
RF Frequency
2.4 GHz
Latency
Selectable (15 / 20 / 25 ms)
Transmission Range
50 ft / 15 m
Sampling Frequency / # Bits
48 kHz / 16 bits
Connectivity
Up to four subwoofers per PT-2 transmitter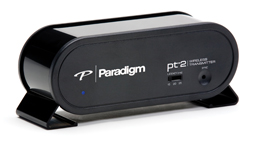 This product works with
Other Models In This Series
N/A