Paradigm®
When size and sound matter

While it's true, there are tiny satellite speakers aided by small subwoofers that can be "hidden" in many living spaces, when it comes to great audiophile sound these systems had never delivered … until Cinema. For years now, our award-winning Cinema speakers have been delivering a seamless music and home theater soundstage that brings movies to life and makes music sound "live." Rumour has it that with this new generation of Cinema speakers, sound may be even better than the movie.
---
Superior S-PAL™ Satin-Anodized Pure-Aluminum Bass/Midrange Cones with advanced motor structures and powerful ceramic / ferrite magnets. The additional mica mineral content stiffened cone composition. Sound reproduction is particularly detailed providing clear and natural sounding vocals and crisply audible movie dialog.

Superior Mineral-Filled Polypropylene Bass Cones with magnet structures tweaked for performance to deliver solid, extended bass performance.

Superior S-PAL™ Satin-Anodized Pure-Aluminum Domes with powerful neodymium magnets and ferro-fluid cooling for increased power handling! Highs are transparent with a superb sense of air and exceptional spaciousness.

Wire Mesh Tweeter Guard and WaveGuide™ technology ensure a smooth, wide panorama of audiophile-quality sound.

Reference quality crossovers in an affordable audiophile … almost unheard of! Driver integration is virtually seamless across the full range of frequencies.

Push-thru Binding Posts with Easy-Glide™ Channels.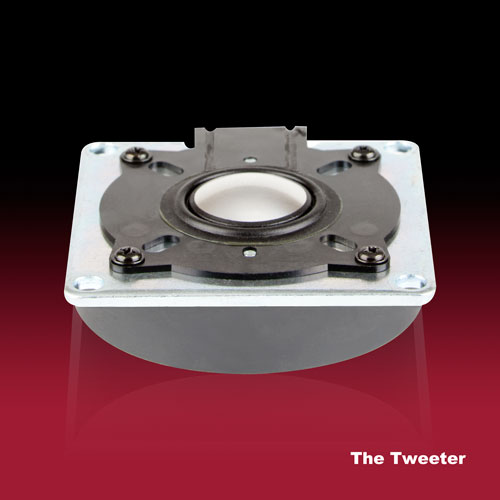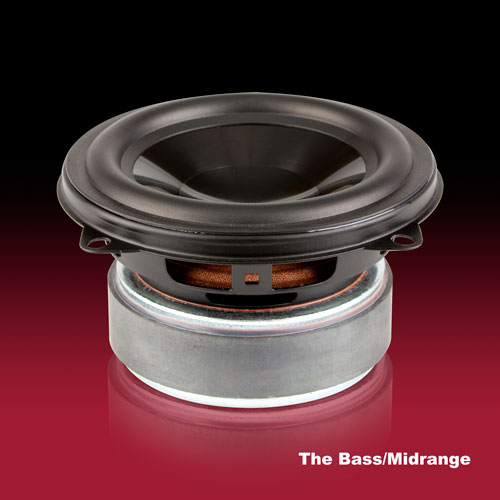 Hang them Easily with the supports included.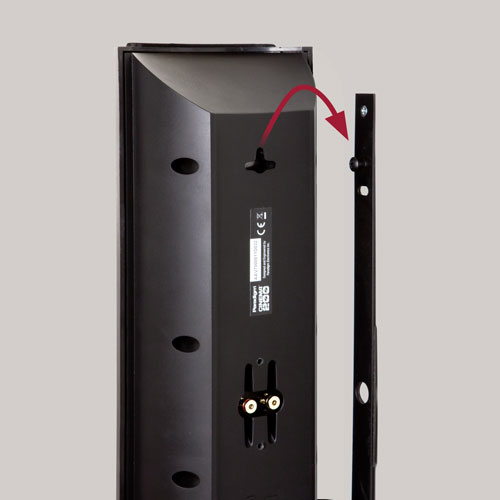 SPECIFICATIONS
Design
5-driver, 2-1/2-way acoustic suspension LCR
on-wall with option to sit center speaker on
a table or shelf with supports included

Crossover
2nd-order electro-acoustic at 2.1 kHz;
2nd-order electro-acoustic at 500 Hz (bass drivers)
High-Frequency Driver
25-mm (1 in) S-PAL™ dome tweeter,
ferro-fluid damped and cooled
Bass / Midrange Driver
102-mm (4 in) mineral-filled polypropylene cone,
25-mm (1 in) high-temperature voice coil, advanced motor structures with oversized ferrite magnets
Bass Driver(s)
Two 102-mm (4 in) mineral-filled polypropylene cones,
25-mm (1 in) high-temperature voice coils, advanced motor structures and oversized ferrite magnets
Low-Frequency Extension*
75 Hz (DIN)
Frequency Response:
On-Axis
30° Off-Axis

±2 dB from 115 Hz - 20 kHz
±2 dB from 115 Hz - 15 kHz
Sensitivity - Room / Anechoic
95 dB / 92 dB
Suitable Amplifier Power Range
15 - 200 watts
Maximum Input Power†
100 watts
Impedance
Compatible with 8 ohms
Height, Width, Depth
67.0 cm x 16.1 cm x 10.4 cm
26-3/8 in x 6-5/16 in x 4-1/16 in

Weight (unpacked)
5.8 kg / 12.8 lb each
Finishes
Black Gloss

* DIN 45 500. Indicates -3 dB in a typical listening room.

† With typical program source, provided the amplifier clips
no more than 10% of the time.
This product works with
Other Models In This Series
N/A