Paradigm®
… Not Your Garden-Variety Design!

These high-performance single-speaker systems provide two channels of L/R sound outdoors. Their Dual-Directional Soundfield™ — two tweeters, each offset at a 30° angle—and twin voice coil bass/midrange driver ensure extremely wide dispersion, a particularly important consideration outdoors where there are no walls or ceiling to contain sound.

Rock Monitors are ideal in small outdoor areas less suited to a stereo pair of speakers
(Fig. 1) or where a single speaker is preferred. In large, or unusually shaped areas, multiple rock speakers can be used to eliminate sound imbalances that occur with stereo sound as people move around or are seated closer to one speaker than the other (Fig. 2). For additional placement options, see your Dealer.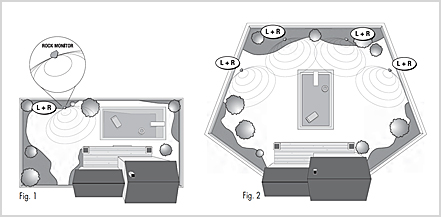 Superior Dual PTD™ Pure-Titanium Domes offset at 30° angles. Outdoor high-frequency performance is smooth, pure, exceptionally well-extended with tremendous clarity across a wide outdoor listening area. No other rock speaker on the market can compare!

Superior Dual Voice-Coil ICP™ Injection-Molded Co-Polymer Polypropylene Cones. Die-cast aluminum chassis, oversized, computer-optimized ferrite magnets, superior motor structures. Midrange performance is superbly detailed and oh, so natural.

Unparalleled Outdoor Quality! PolyGlass™ Enclosures with Faux-Stone Finishes are fully sealed (no ports!) and highly damped. Stainless steel grilles and self-draining natural rock fissures. Weather, water and UV-resistant, even under adverse conditions.
SPECIFICATIONS
Design
Single speaker system with stereo
L/R inputs, 3-driver, 2 x 2-way
coaxially mounted high-frequency
drivers, weather, water, UV-resistant
sealed enclosure, self draining fissures

Crossovers
Two 2nd-order electro-acoustic at 2.5 kHz
High-Frequency Drivers
Two 25-mm (1 in) PTD™ domes
Bass / Midrange Driver
Dual voice-coil, 190-mm (7-1/2 in)
ICP™ cone, die-cast chassis
Low-Frequency Extension*
42 Hz (DIN)
Frequency Response:
On-Axis
30° Off-Axis

±2 dB from 63 Hz - 20 kHz
±2 dB from 63 Hz - 18 kHz
Sensitivity - Outdoor
90 dB (groundplane measurement)
Suitable Amplifier Power Range
15 - 120 watts Mono;
15 - 60 watts / channel Stereo Input
Maximum Input Power†
80 watts Mono;
40 watts / channel Stereo Input
Impedance
Compatible with 4 ohms Mono;
8 ohms / channel Stereo Input
Height, Width, Depth
38.5 cm x 34.0 cm x 33.0 cm
15-2/16 in x 13-6/16 in x 13 in
Weight (unpacked)
7.7 kg / 17 lb each
Finishes

Northeastern Dark Granite, Fieldstone
* DIN 45 500. Indicates -3 dB in a typical listening room.

† With typical program source, provided the amplifier clips
no more than 10% of the time.
This product works with
N/A
Other Models In This Series