Powered Soundbar
& Wireless Subwoofer System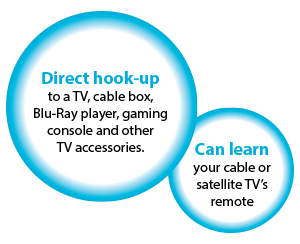 Small rooms. Big rooms. Bedrooms. Boardrooms. Think thin. Powered sound bar and subwoofer. Wireless slim sub offers flexible placement options: tuck it into a corner, a cabinet or under a couch. 2.1 channels of sound for a room-filling sound experience. Our Soundtrack system is for you if you think ordinary is overrated and you're into extraordinary.

Direct connection to Apple TV and Airport Express.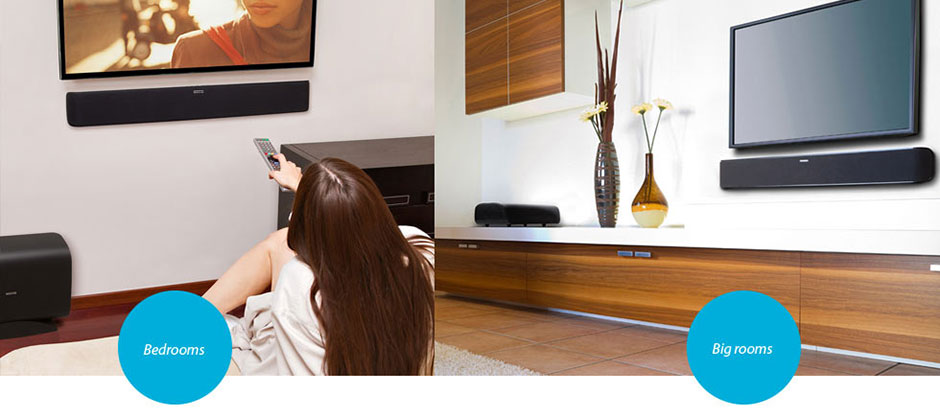 What is it?
Receiver-less audio! An amplified sound bar and amplified wireless subwoofer combination. Everything's included in the box for a quick and easy setup, even the audio cables and a right-angle RCA adaptor for use when the sub's placed in a horizontal position.
Who is it for?
It's for those who want realistic, room-filling sound via a space-saving format. If sound quality from ordinary sound bars leaves you unmoved, we guarantee this Paradigm system (with its spectacular bass) will shake your foundations.
Why would you want it?
Award-winning Paradigm technology and sound quality.
Fast and easy setup.
No bulky additional components needed.
Wireless low-profile sub offers placement flexibility (photos on next page).
Direct hook-up to a TV, cable box, Blu-Ray player, gaming console and other TV accessories.
Connects directly to Apple TV and AirPort Express.
Operates via remote, onboard interface and can also learn your cable or satellite TV's remote.
Inputs: Fibre-optical digital; RCA to RCA; auxiliary.

Technical details and behind the scenes
Special Soundtrack System Features
and Why They're Important
2.1 channels of sound … a room-filling sound experience. The two full-range driver complements in the sound bar are physically separated into two channels. Three drivers make up the right channel of the sound bar with three more on the left. This separation ensures that sound from both channels travels widely and deeply throughout the room. Stereo imaging is immaculate. Superb reproduction of the original live event or original recording session. If in a live performance cellos were to the left, violas spread across the front, drums in the back, then that's where you'll hear them. Sound will follow the live performers as they travel across the stage. In a movie, as special effects fly in, you'll find yourself ducking your head.
Paradigm's DSP signal processing design uses sophisticated mathematical algorithms to shape frequency response so that even when the system is playing at loud levels, sound is clear, musical and authentic.
About the Drivers
Bass/Midrange
2 x 4-1/2" bass/midrange woofers: Mineral-filled polypropylene. This material delivers a superb low-mass, high-stiffness ratio. The benefits of this? Excellent reproduction in the higher midrange and fast transient response (explosions, etc.). The material is also an effective damper for distortion as the woofers move back and forth.
2 x 4" passive radiators: Constructed of a mineral-filled polypropylene, the dual radiators extend the speaker's range in the lower bass frequencies.
2 x 1" high-frequency ferro-fluid cooled dome tweeters: Pure-aluminum dome tweeters are a rarity at this price. Fluid cooling the voice coil improves power handling which improves the accuracy, purity and range of the high-frequencies.
Compact Low-Profile Sub with Dual Ports
8" laminated polypropylene cone driver with a 1-1/2" high-temperature aluminum-wire voice coil. Dual ports ensure even, articulate, well-timed bass performance. Oversized ports and driver are arranged in a perpendicular array to achieve the low-profile design. Wired option for subwoofer is also available, cable not included. If desired, the sub will fit into a standard A/V cabinet.
Proprietary Class-D Amplification
The Class-D amplification delivers 2 x 25 watts of RMS power and 2 x 50 watts peak power from the sound bar. The amplified sub delivers 100 watts of RMS power and 250 watts peak power.